Business English with ESL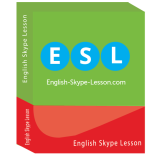 Business English lessons by Skype, Zoom or telephone with ESL allow you to succeed whatever your language needs.
In today's world English is more important than ever for connecting with customers on a global scale. ESL understands demands can be high for business English and our professionally trained teachers have the expertise to help you meet your goals
We design each business course for each student, so that you can be sure the ESL language training you receive is 100% focussed on helping you and your business succeed. We can design business English courses for specific situations, for example, marketing, sales, accounting, law English, I.T English, engineering, or we can give a broad training in everyday business situations, for example, emailing, telephone calls, meetings and presentations. It is also possible to mix courses for an even broader language training
100% convenience
Many of our students lead busy lives with unpredictable hours, that is why we offer a flexible online booking system with lesson times available from 06:00 - 23:30 Monday to Friday and availability on the weekend. It is possible to book and cancel lessons up to 6 hours before the start
Suggested Business English courses
+ Job interview preparation. - Practice for that important interview, our professional teachers will help you to prepare, discussing your C.V, experiences, qualifications and allow you to answer job interview questions with fluency and confidence
+ Business English for everyday situations. - Practice business English for common situations such as emailing, writing business letters, taking part in meetings, presentations and business telephone calls.
+ Business English with emphasis on grammar and pronunciation. Mix grammar exercises with business situations allowing you improve your grammar accuracy while improving business vocabulary
+ Business English for specific situations. We can focus business English on any job, for example, marketing, sales, accounting, law English, I.T English, engineering and many more
+ Business English for exams, we can help students achieve business related exams that will provide a boost for your career, such at BEC, IELTS or TOEFL.
These are just an example of some of the courses we provide for Business English. All our courses are designed for each student, so please contact us to discuss your unique requirements.
Contact us today to discover how we can help build you English language skills. Or why not take a free trial lesson to find out more.