Exam preparation with ESL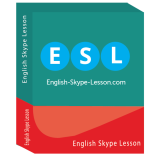 ESL provides a comprehensive range of courses that will fully prepare you for the main Cambridge English exams, including, IELTS, TOEFL, TOEIC, CAE, FCE, PET and also business exams such as BEC.
Qualifications in these exams can provide a huge boost to your careers, or for those wanting to work or study abroad they can be essential.
Each course is provided by a qualified and experienced native teacher, with a combined experience of over 20 years in providing these exams we are sure we can give you the advantage you need to succeed!
100% professional courses
Unlike many online language schools - our exam courses come with professional materials free of charge meaning you have the materials required for the exam, can study outside of the class for extra practice and can benefit from a structured and professional course from the convenience of your home or office.
Exam English courses
+ IELTS - The International English Testing System, is a standardised test of English language proficiency. IELTS is one of the world's most popular language test for English students wanting to live, study and work abroad
+ TOEFL - Test of English as a Foreign Language, over 8,500 colleges, universities and agencies in over 130 countries use TOEFL to make their admission decisions.
+ TOEIC - Test of English for International Communication - Questions are based on real work situations within an international setting, building a strong foundation for those wishing to work abroad
+ CAE - Cambridge Advanced English - is used by over 3000 work institutions around the world as a reliable and trusted assessment of professional English.
+ FCE - First Certificate English - is the most popular English test taken by 1000's of students each year. It proves you can use everyday spoken and written English to an upper intermediate level for both work and study.
+ PET - Preliminary English Test - demonstrates an intermediate level of English.
+ BEC - Cambridge Business Certificates - provide practical skills for the business environment, helping people succeed in an international work place. Exams are divided into 3 levels, Preliminary, Vantage and Higher.
Contact us today to discover how we can help build you English language skills. Or why not take a free trial lesson to find out more.